Pokies Terminology
On this page, we collected the list of the most common and popular Aussie pokie terms and their short definitions. It helps gamblers to better understand any online pokie description or review, to find out more about the game features, and to contact live customer support less because of gambler errors. All terms are filed in alphabetical order and are convenient to search.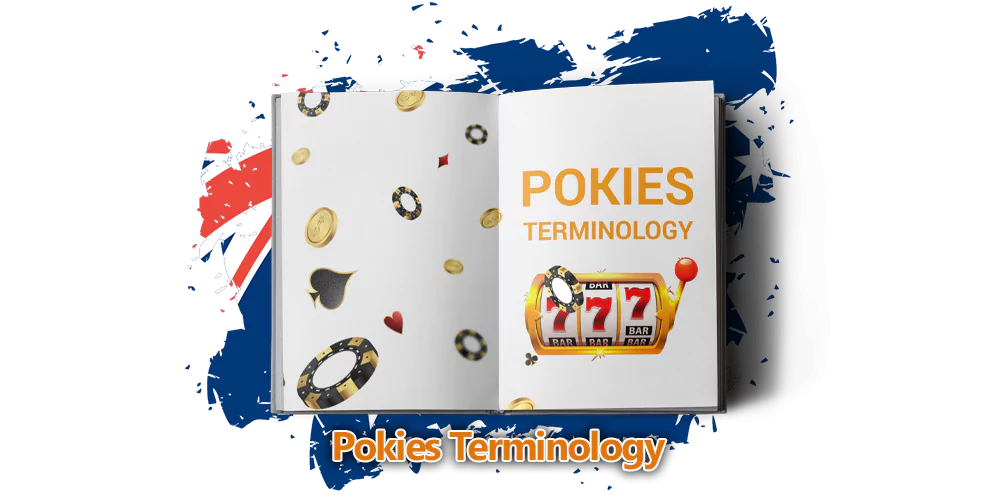 All Ways. A pokie with undetermined paylines: every combination of the same symbols becomes a payline, its form and direction don't matter.
Bonus Feature. One more way to win in addition to regular spins. The most popular types are free spins, wild symbols, and gambling features.
Cardies. A short name for video poker machines of the older type, situated in pubs and land-based casinos. The name is related to the card theme that these pokies had.
Cascading Wins. A situation when the symbols of the completed payline disappear and are replaced with upper symbols of the proper reel. If the new payline completes, it disappears too, and so on until the paylines are off.
Coins. A virtual currency, used for more convenient bankroll management and bought for any usual money, including AUD, dollars, Bitcoin, and any other cryptocurrency. A gambler may choose a coin value (0.01-1 AUD) and the number of coins per bet (1-5).
Comps. Short name for complimentary prizes. Used for additional points, cashback, welcome, and other bonuses.
Credits. Substitute for coins. A gambling currency with a flexible price, chosen by a gambler.
Double Feature. An opportunity to get a new bonus in a bonus round.
Double Up. A bonus feature that allows to double up the current win by guessing one option of two (for example, red or black), seldom – one of four (card suit) for a 4x multiplier. Also known as the gamble feature.
EGM. Abbreviation for an electronic gaming machine. Modern web, desktop, and mobile pokies for Android and iPhone are one of the EGM types.
EPROM. Abbreviation for erasable programmable read-only memory – the safe type of memory that keeps its data if the power supply is cut off and allows access to it after the power supply renewal. EPROM is used in pokies for saving game results.
Expanding Wild. A wild which covers the whole reel where it landed.
Extra Bet. A bet, often bigger than usual, that allows using bonus features.
Feature. See Bonus Feature.
Gamble. See Double Up.
Half Gamble. A bonus round that allows to double up half of the current win by guessing one option of two. See Double Up.
Hit. A gambler slang word for a spin. Also to hit the jackpot means to win it.
Instant Play. A pokie interactive web page that doesn't require downloading Android or iOS software or other extra actions. The web page is based on Flash, Javascript, or HTML5 technologies.
Jackpot. The large cumulative prize on pokies is often the biggest possible win.
Jackpot Link. A jackpot, cumulated with bets of numerous gamblers, sometimes of several pokies games. Also known as a progressive jackpot.
Lines. Lines or paylines are the combinations of the same symbols in certain positions which are followed by payouts.
Max Bet. The maximum bet amount per spin.
Multiplier. The number to multiply the current win. Often used on free spins rounds.
Paytable. The detailed list of paylines types and sizes, multipliers, gameplay description, and extra features.
Payout Percentage. The percentage that the game will return to players. Also known as RTP (return to player).
Poker Machines. Name for slot machines in Australia. The early Australian poker machines had the card theme, that's why they got this name.
Pokies. The pet word for poker machines in Australia.
Progressive Contribution. The part of every bet paid to a progressive jackpot pool. It can be paid in any currency including AUD and crypto, but the jackpot amount is always converted to dollars or euros.
Progressive Jackpot. A jackpot is funded by a certain percentage of each bet on one or several pokies.
Random Feature. A bonus is activated independently from grid events or the results of other bonus games.
Random Jackpot. A jackpot that can be triggered by the random number generator only.
Random Number Generator (RNG). The software is used to generate random numbers that determine the place where symbols will appear on the screen.
Re-Spin. An opportunity to get more spins per one bet.
Reels. The spinnable symbols columns are triggered by the spin button. Their visible zones form a grid. An average pokie contains 3-5 and more reels.
RTP. Abbreviation for return to player. See Payout Percentage.
Scatter. A symbol that, single or as a combination part, triggers extra rounds and other bonus features.
Second Chance Feature. A bonus opportunity to spin once more if a gambler isn't satisfied with the current result.
Slap. A slang word for playing pokies.
Stacked Wild. Several consistent symbols of the same type are on one reel. Usually, increase winning amounts.
Sticky Wild. A wild symbol that stays in the same position during several spins.
Suits. The types of poker cards. Modern card suits are hearts, diamonds (red), clubs, and spades (black). Used mostly on gambling rounds when players must guess a suit color or a suit itself to multiply current wins.
Symbols. Images of different types united with the same theme and placed on reels. Symbols form payline combinations, determine payout amounts and trigger bonus features.
Trailing Wild. A wild symbol that stays in the same position and covers all reels on which it appeared.
Video Poker. A digital pokie with thematic video design, soundtrack, and gameplay, advanced relatively to classic pokies.
Ways. A type of payline without restrictions on its form with only one requirement – a proper symbol in several consistent reels starting from the leftmost or the rightmost one.
Wild Multiplier. A wild symbol that also multiplies the current payout.
Wild Symbol. A symbol that replaces any other symbol except scatters. The grid with wilds in all positions often means a jackpot.