What Are Online Pokies for Aussies
Australia is the world leader in pokie machines amount per person, and the Aussies are on top of online and mobile pokie gamblers.
What are pokies in Australia and what do they mean for Aussies? What is pokie theme and payline? What is the secret of this game's popularity? Read the answers to these questions below in the review.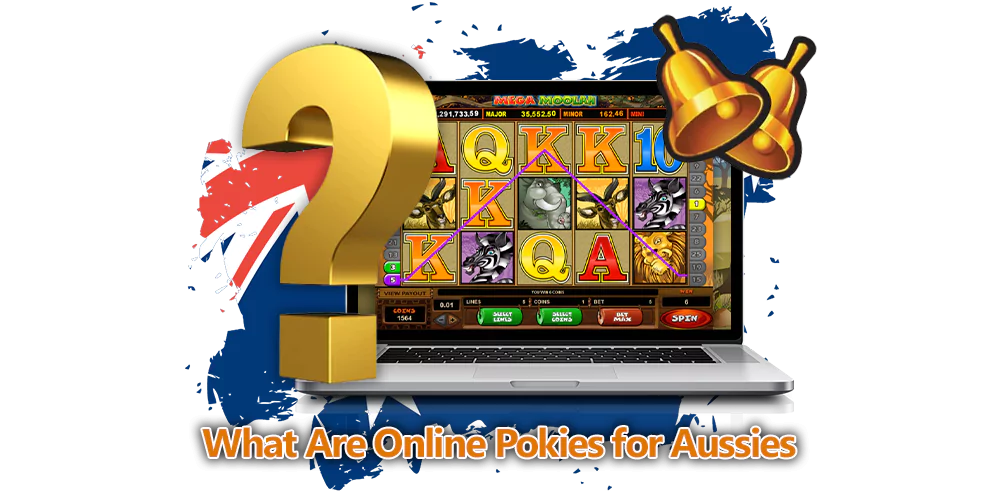 What Are Pokies?
Gambling is Aussies' beloved hobby, and the pokies are one of their favorite types of games. So let's find out what they mean for gamblers from Australia.
The name "pokies" was originally used for poker machines that were very common in Australia. later this name spread to other various slot machines presented, for example, by such a company as Aristocrat.
Classic pokies contain 3 or more spinnable reels with different symbols in a fixed order. Modern slots can contain 5 and more reels. After spinning the reels form grid rows. The spin is triggered with the proper button and starts RNG. This function determines the reel zones which are shown on the grid. The payout combination of the same symbols is called payline, its size and type determine a bet multiplier. In most games the several paylines may meet on the same grid and even interact, increasing the total win.
What are pokies machines' gameplay specifics? The main gameplay is simple: choose how much money you want to bet for 1 spin, place a bet and push the spin. Each game has individual extra features, including a jackpot set which makes the gambling process more interesting and profitable.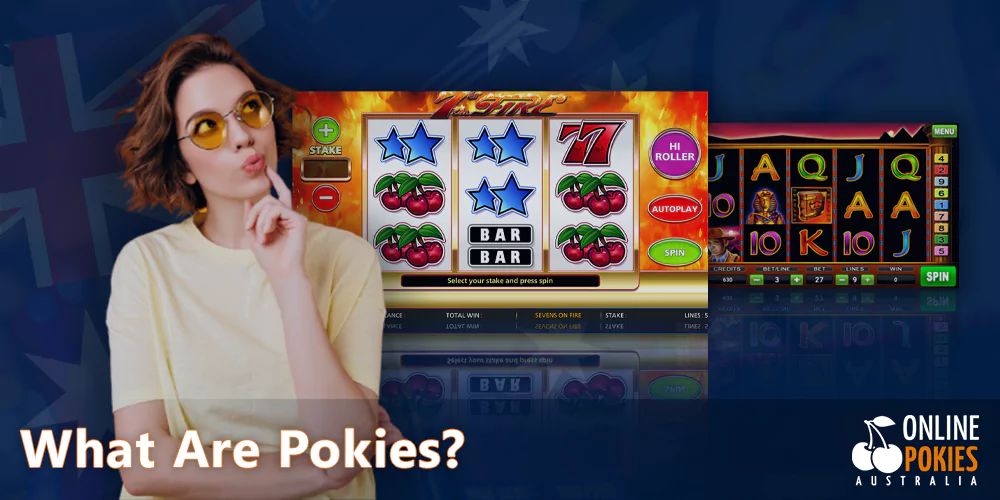 Themes of Pokies
What is pokie machine theme variety? The first games had card themes and poker payline sets. Later, they achieved digital screens and the video game genre appeared which allowed setting any themes quickly and cheaply. The first ones were Vegas, wild west, and fruits. The Internet opened up new opportunities and widened the themes range. Almost all modern games are video pokies with these themes: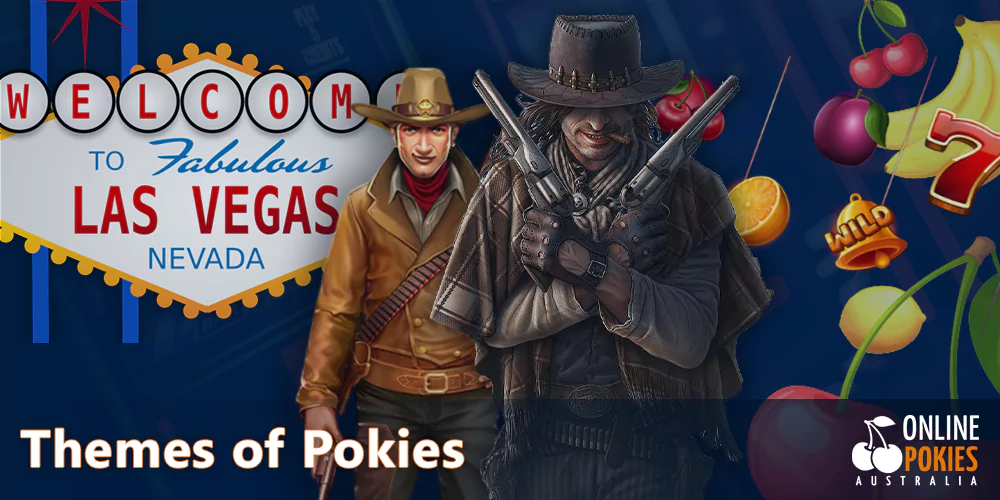 Ancient and medieval European history.

Here you can find, for example, the Roman Empire slot, Big Ben, or Aristocrat's Pompeii.

Africa-themed pokie Machines.

Pokies from this category usually explore African wildlife or culture. Safari, African spirit, 50 lions, and other interesting slots you can find here.

Action, adventures, and detectives.

These slots are inspired by various video games, movies, superheroes, etc. Here are slots like Batman v Superman, Ark of Mystery, Rambo, and many others.

Retro.

Theseokies are designed to evoke a sense of nostalgia, especially for players who want to reminisce about the good old days. Here you'll find Hot sync, Diamond strike, Money heat, and more.

Fantasy and sci-fi.

Here are all the Pokie titles that revolve around imaginary worlds: Wilderland, Dragon Match Megaways, Time Travel Tigers, and many others.

Animals and fantastic creatures.

Various animals are easy to integrate into any game, so here you will find the most different slots like Great Rhino, King of the Jungle, Cats, Jade Tiger, etc.

Gold rush and gem mining.

These online pokies have gold elements – medals, coins, bars, etc., which may indicate some kind of treasure. Phoenix Sun, Wolf Gold, and Golden Ticket slots are in this category.

Fruits, sweets.

These slots are one of the most favorite: Fruity Feast, Extra Juicy, Berry Burst, and others.
The themes are often related to activities that imply minerals, prey, trophies, and other types of sudden rewards and chasing them. The cinema industry also regularly adds themes to certain movies and genres.
Popularity of Pokies
The pokies' popularity among Aussie gamblers is so huge that it can be called a rush. These are only a few significant facts that show its true level.
The poker machine pet name became an official one in Australia.
The Australian gambling market exceeds 14 billion dollars. It is 7x of the Aussie cinema market.
Australia has 0.3% of the world's population and 18% of all games.
Almost 80% of adult Aussies gamble on a regular basis. Most of them prefer pokies.
8% of adult Aussies suffer from gambling addiction. We recommend playing responsibly.
The support team works very hard to ensure the safety of all players and always offers advice on responsible gaming. You must remember that the slot is entertainment, not a way to earn money.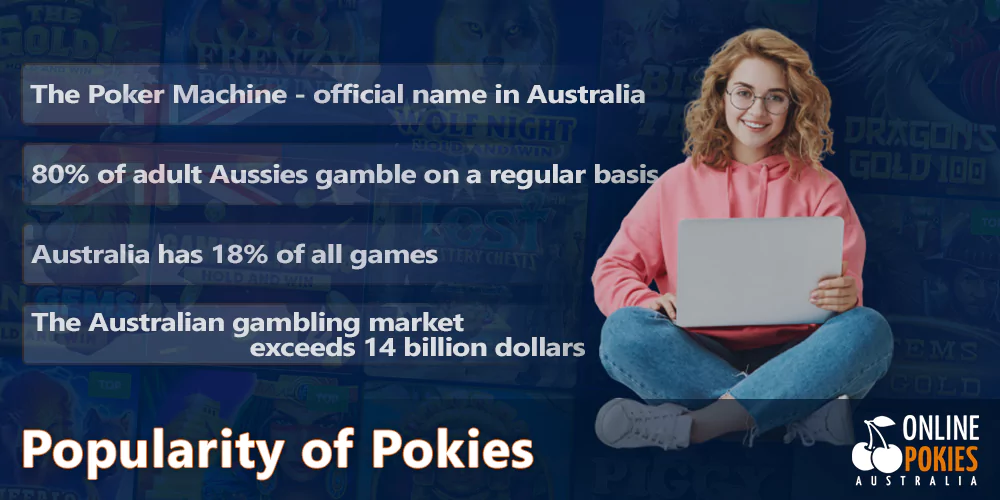 Where to Find the Best Online Pokies?
What are Australian pokies and where to look for them? The answer is on the surface – choose any from our TOP casino list. Aussie players may gamble in numerous Australian online casinos and have access to most international ones. They offer thousands of games and hold the rankings of the top pokies with the best design and gameplay.
The best casinos have a flexible search that allows finding a game of a certain theme, volatility, RTP, reel and payline amounts, and other features. So all gamblers may choose the entertainment to their tastes.
What are pokies gifts offered by casinos:
Newcomers can get a huge welcome bonus, free spins, cashback, and other promotions.
Live customer support.
Many options to deposit or withdraw money, including online banking and crypto wallets, accept AUD, Bitcoin and cryptocurrency.
Casinos strive to improve the player experience and make your entertainment easy and affordable.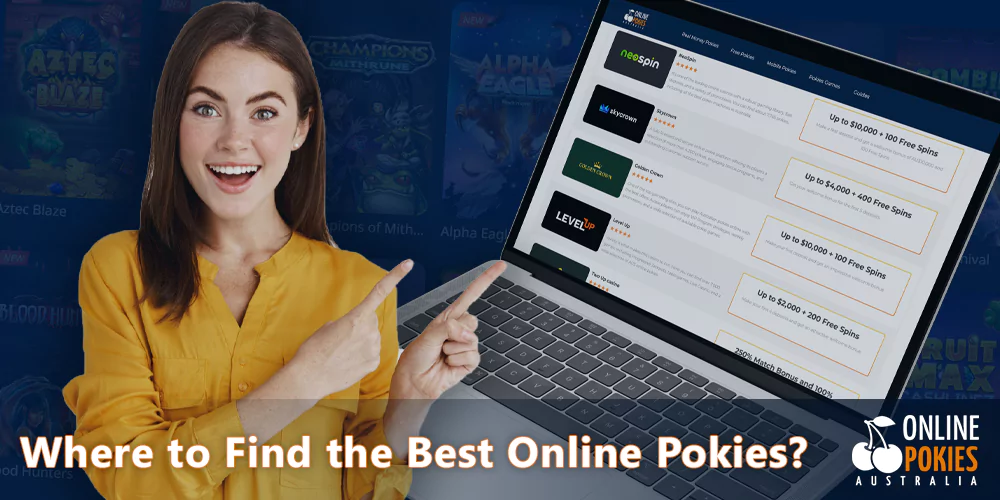 What Do You Need to Know about Pokies?
There are a lot of myths and superstitions about these games. That's why we have to debunk the main ones and clarify what are pokie machines in reality.
They are random.

There are no tricks to beat the game machine. Players can only use strategies and tips to increase their chances.

They are fair games.

There are numerous license agencies and third-party audit authorities which test pokies and verify their providers. Any cheating software is not allowed in casinos.

This is entertainment.

This is entertainment, not a source of income. Never rely on winnings and don't play for money for basic needs.

RTP (return to player) is a statistical indicator.

In a single case, you may lose everything.

The life-changing gains are extremely rare.

Only one gambler per million wins a million for 1 AUD.

Many pokies can be played in a free mode, safe for your money.

This is the best way to get the necessary experience and then play for real money.
FAQ
What is the definition of "pokies"?

Pokies are popular slot games in Australia and New Zealand. "Pokies" is another name for slot machines. There is no difference between them other than the name.
What is the meaning of pokie?

Pokies are slot games that have 3, 5, or more reels with symbols. Machines show a set of colored symbols that must be placed correctly in order to receive prizes. A player presses a button and a random set of symbols falls into every reel. The correct order of symbols guarantees a prize to the player.
Where do Pokies get their name?

The term "pokie" was born from the love of Australians to shorten words. The word comes from "pok" in "poker machine".
Is it true that Aussies play more Pokies than people in Europe, Asia, and the USA?

Pokies are really very popular in Australia. Such games are created to get players hooked. Pokies in Australia are widely spread and available in pubs, restaurants, and other crowded places. Some people from poor regions try to get rich by gambling.
Can I win playing Pokies?

Yes, of cause, you can win, bet remember that pokie wins are completely random. There is no strategy that will tell you exactly

how to win at pokie

, you can't predict the results of the game.
Is it possible to play Pokies online for free?

Yes, it is possible.

Free Pokies games

are available at many online casinos in Australia and New Zealand.