How to Play Pokies Machines in Australia
Classic pokies or slots are loved by many Aussie gamblers for their simplicity. You just need to deposit money, click on the button, and wait for the result. Often in such games, everything is intuitive. Online pokies are based on RNG and mathematical calculations therefore there can be no strategies that will bring a guaranteed victory.
Nevertheless, it is crucial to know how to play pokies and understand how such machines work. Here you'll find the most interesting and important information about the game's interface: the buttons, rows, and reels. Also, you'll figure out how the game's elements work. Let's get started!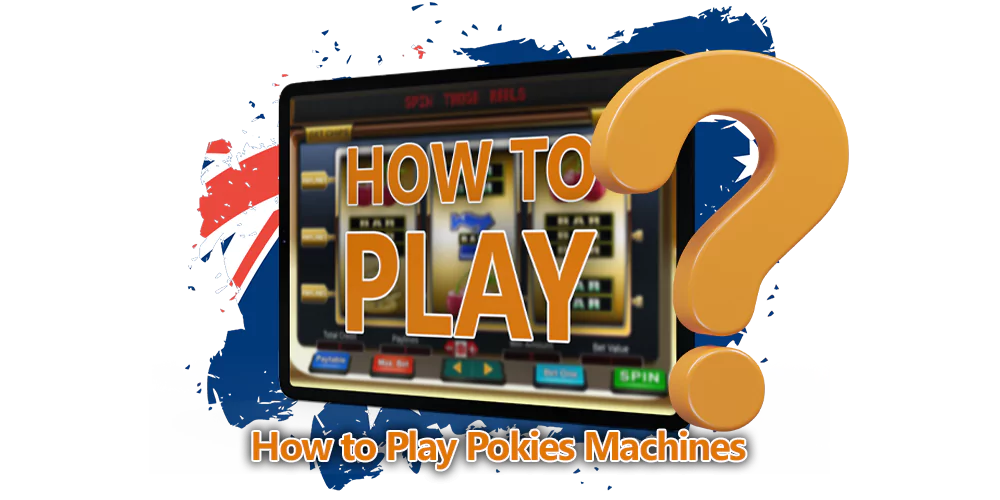 The Buttons
So that you do not have questions about how to play poker machines, it is important to look at the layout of the buttons:
Win

Shows how much you have won;

Bet max

Demonstrates the biggest possible amount;

Balance

With accessible money and virtual coins;

Paytable

Shows how worth each symbol combination is;

Total bet

Displays the total cost of your spin;

Spin button

Makes reels spin;

Lines

Shows the number of lines you are betting on;

Line bet

Indicates the amount of cash you are betting on each line;

Autospin

Helps to play in a hands-free mode.
Additionally, there is a button that allows you to withdraw money from the machine. By pressing it you get money into your account. Sure thing, it won't be universal for all the slot machines, because the buttons may be in slightly different places. However, the basic essence always remains the same.
The Row
Slots usually have 3 rows, this type of slot is still the most prevailing one nowadays. But there are more and more slots with more than 3, sometimes it can be 4-5 and even 6-7 rows.
Rows and reels are integral parts of any video slot. Each slot machine must have at least one row and at least 3 reels. Without them, you wouldn't be able to play it.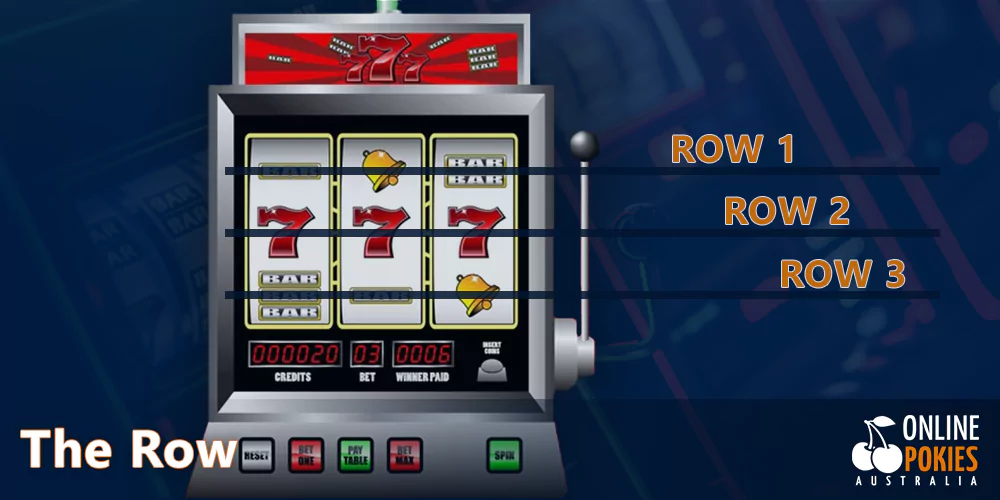 The Bottom Row
Now you need to deal with the bottom row of buttons:
"Take Win" button

This feature allows you to collect your winnings or stop accumulation.

The "Reserve" button

This button helps to freeze the machine for three minutes so you can move away. Often this feature is present in the machines in Australian bars.

Spin

Button, which is responsible for the reel's spin. By pressing this one, the reels will start spinning with the bet you have chosen.

The credit per line

A button for managing credits on a particular line.

Max Bet

This one automatically places the highest possible bet.

Bet size

It will help you adjust the amount of money to bet.

Number of spins

A button that shows the number of spins. By pressing this button you can also stop autoplay.

"Gamble"

It can be pressed after any winning combination. As a result, this will make it possible to proceed to the bonus game.

The "Start Feature"

This button can be pressed after successfully completing the bonus feature.
Spinning the Reels
In order to know how to play pokies machines from A to Z, you need to pay special attention to the reels and their rotation. Before you can spin the reels while playing poke, you need to make a deposit so that you can place a bet. Then, you will be able to select a bet and then press the button with the number of lines, then the reel will immediately start spinning.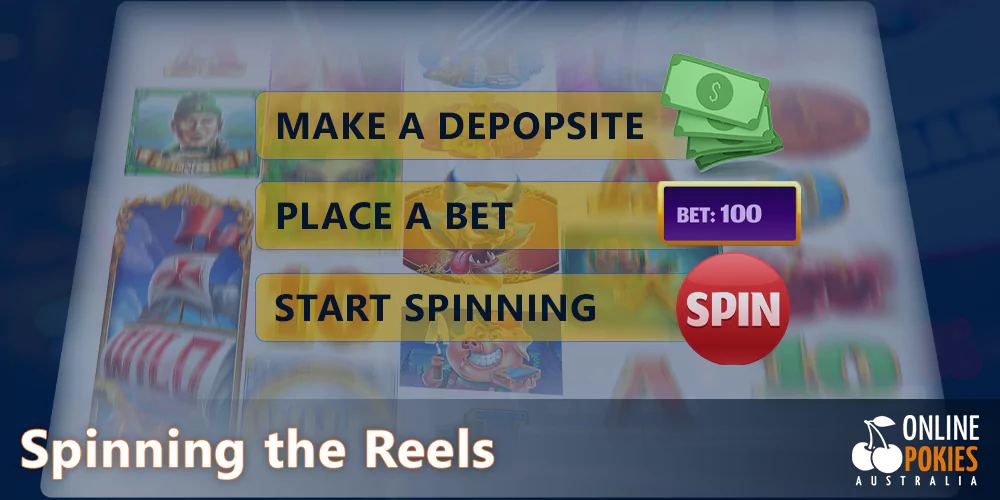 Online Gambling
Nowadays there are a lot of players who appreciate and love online casinos where slots are at the peak of popularity. Follow these steps to play your favorite slots online: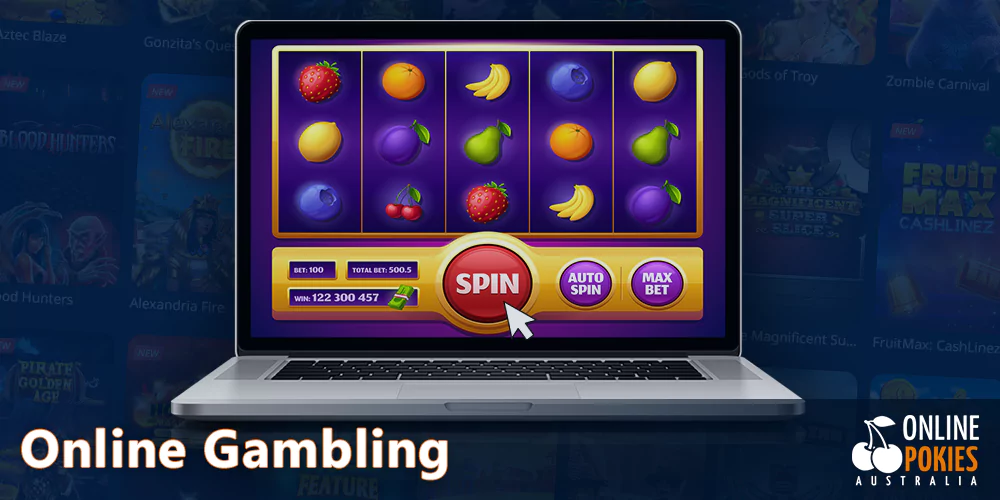 Choose a casino

Choose the best online casino.

Go to 'Slot'

Find the section "Slots" in casino.

Select the pokie

Select the machine you like the most.

Make a deposit

It's interesting, there are slot machines where buttons appear gradually. For example, until you make a deposit, you will not see the spin button on the bar.

Place a bet

Place a bet on the selected game.

Click 'Spin' button

Spin the reels and wait to see if you win.
If you are lucky enough, enjoy your prize and withdraw your money.
Our Recommendations for Gambling Pokies
Even though it is impossible to choose a strategy when playing pokies to be sure you make money, there are still some vital tips. In addition to increasing chances for winnings, these tricks will help make the game more comfortable and avoid big losses.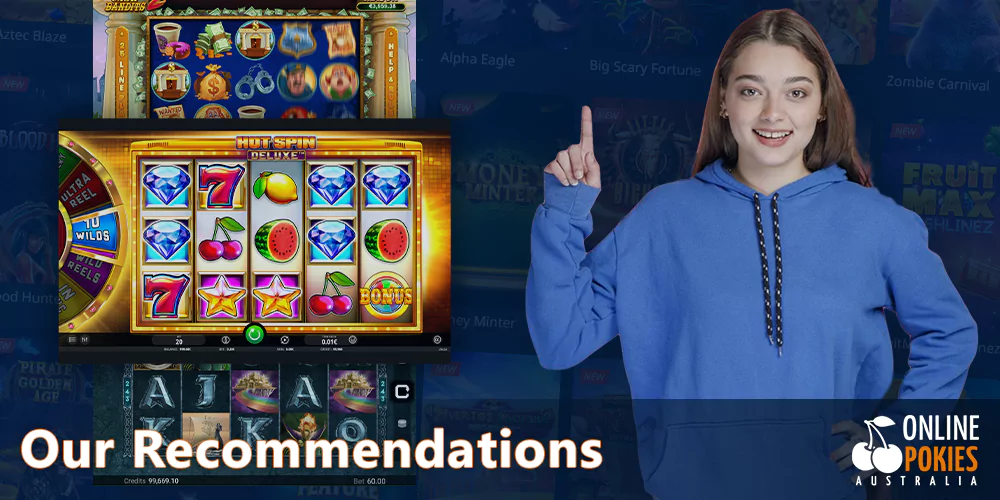 Try the Demo

If you are a fan of online casinos, then do not rush to choose banking options and make deposits. Try the pokie for free first. In addition, modern online casinos are adapted not only for PC but also for Android and iOS devices. Having tried the demo version of a particular game, you certainly will not receive money. But such a test drive will allow you to see the principle of the game, get acquainted with the control panel, and simply understand whether you like the game. And then you can safely and without fear go to the game for money.
Choose Simple Pokies

When you enter a casino website, slots with many paylines, various bonuses, jackpots, etc. always catch the eye. But not all that glitters is gold. After all, all these points only complicate the game. When choosing a slot machine, it is better to bypass the pokies games that are literally crammed with bonuses and paylines. It is better to stay in a simple slot, where everything will be clear and simple. In addition, these pokies often have low volatility, which will allow you to take many small wins.
Know How to Stop

In fact, this is the golden rule of online gambling. As soon as you realize that you have spent everything that you planned, stop the game. Of course, losing is unpleasant, but you can't get hung up on this and try to win it back with all your might. If you notice that it is difficult for you to stop on your own, use the function of responsible gambling in an online casino, so you will protect yourself.