Disclaimer
Online Pokies Australia is an informative website and does not operate any real money pokies games on the Internet nor is it influenced by any gambling operators or online casinos. By using our website you undertake not to hold any company or individual liable for the information or products relating to this website.
Any information contained on our website relating to pokies reviews or feedback is for info purposes only. While we strive to provide the best possible service, and thus only provide our users with honest information about each pokie, any reviews on our website are our sole responsibility and are not influenced by any other gaming portals. We also reserve the right to change or modify any of the info regarding the pokies on our Online Pokies Australia website, without prior notice to or approval of our users.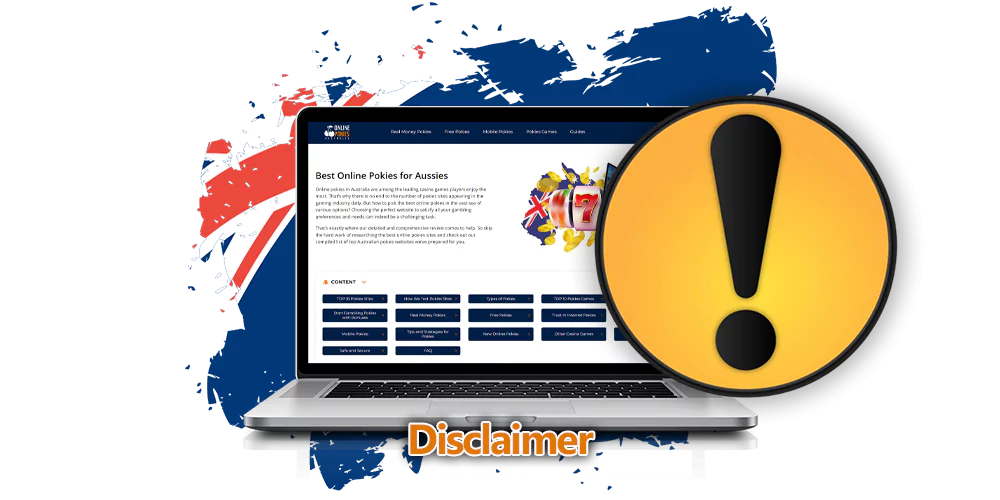 On our website, we provide services only for Free pokies games. In other words, we do not require or charge you in any way for the services we offer. We do not offer or encourage any real money gambling or in-play gambling services and we ask that anyone considering gambling for real money online familiarize themselves with the Australian Gambling Act before proceeding. We will not be liable for any legal liabilities arising out of your actions.
In providing our services we do not require any personal information from our users. We only use cookies and this is the only way we collect information about you. We are not responsible for the personal information you provide to third-party gaming sites, which may be accessible via links or direct downloads from our site.
Users visiting Online Pokies Australia should be aware that there is always some element of risk associated with gambling addiction and therefore we recommend that you refrain from playing if you are prone to becoming addicted to gambling. We are not responsible for any gambling-related situations or actions by users that may be found here. Try to approach the gambling process as responsibly as possible.
All material published on our website is the sole property of Online Pokies Australia. The use of our logo, trademarks, content, text, and other elements without our permission will be prosecuted to the full extent of the law.